Receive a Trusted Mold Removal Service in Englewood, FL!
Mold Can Make You Sick! Let's Avoid That. Call Us NOW for Mold Removal!
We Serve the Sarasota Metro Area
If you're looking for a mold removal company in Englewood, FL that you can rely on, look no further. Our team of highly trained mold and mildew removal experts possesses immense knowledge and experience in resolving mold-related issues.
Whether you're looking for mold inspection, mold removal, or water damage restoration you can be assured that you're getting a top-notch mold removal service with us. You're just one phone call away from receiving an exceptional residential mold remediation or commercial mold remediation service.
Once you've identified mold damage within your home or business through mold inspection, the next step is to ensure that Englewood mold remediation is performed by a state licensed mold remediation contractor. 
Property owners should always consider the potential financial damage and health issues that mold can cause, and how important it is that mold remediation is performed in the property property as quickly as possible. 
It takes proper training, equipment, and experience to remediate mold or mildew safely from a home or business. Call us and get a fast quote!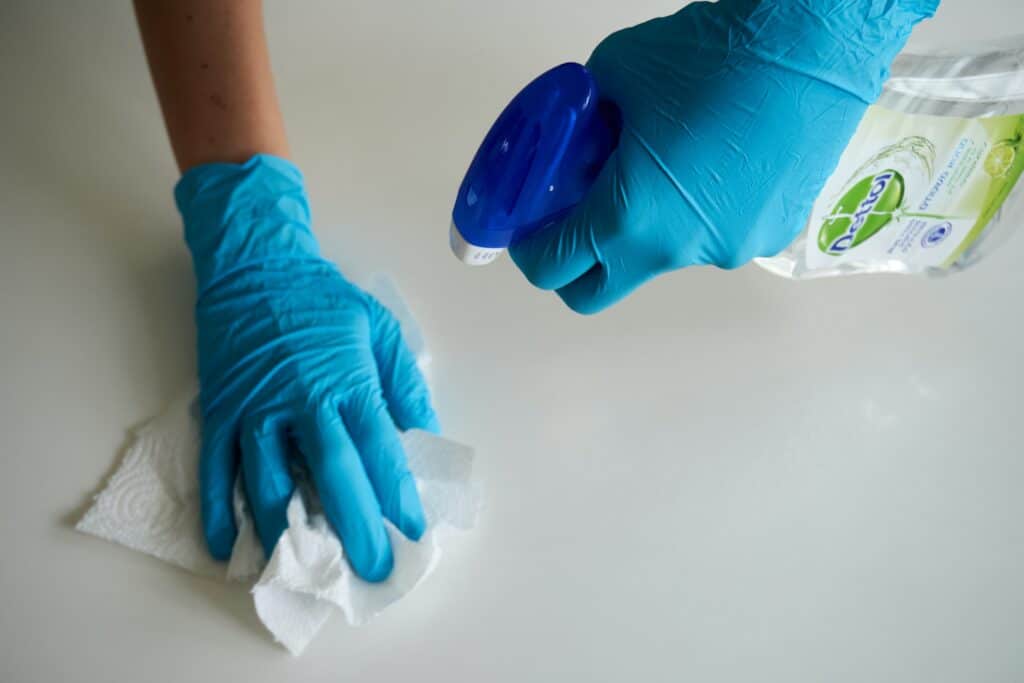 Chances are if you're reading this article, you do. Mold grows in dark places and you can't always spot it yourself. 
My house is pretty clean, are you sure?
Mold doesn't only grow in "dirty" homes. With the right combination of already-mentioned factors, a mold infestation can occur in any home, regardless if it's clean or not. 
In case you already see signs of mold, you should hire a mold inspection professional anyways. You may not see it all and it also may be the case that the mold has grown at multiple locations in your house. 
Mold inspection once a year is a must, especially in Englewood. You may also want to consider having us do it twice. We recommend performing it at the beginning and at the end of Florida's "wet season", which typically starts in May and lasts till October. 
Mold inspection involves two processes. Firstly, we have to determine where the mold is located in your household. This involves a thorough inspection of your indoor environments, taking air quality samples, and performing air quality tests.
If the mold is located, then we have to perform a test to see exactly what type of mold we're dealing with. This is also known as "mold testing". Most people think mold testing and inspection are the same but in reality, they are two different processes. After this, mold remediation will be performed.
What equipment will you use?
We will be using various equipment like infrared cameras, VOC testing tools, and others. 
Will my house get messy during mold inspection?
No, not at all! We have special cameras that will help detect the exact location of the mold without messing up your place.
Mold Inspection Englewood
We offer exceptional mold inspection in Englewood. Our mold inspection professionals have been performing mold inspection in Englewood and the surrounding areas for years, and we're confident that they'll be able to provide you with the same quality of service. 
Mold inspection is a must if you've spotted signs of mold presence in your home recently. If you started feeling that musty smell accompanied by frequent sneezing, feelings of dizziness, or even allergic reactions, you should immediately call a Englewood mold inspection company as these are some of the most common mold symptoms and mold inspection and mold removal should be performed. 
Mold carries a health risk with itself and, if the levels of mold are higher and/or you're dealing with a more dangerous type like Stachybotrys (also known as "black mold"), consequences could be serious. Call Sarasota Mold Pros immediately if you require emergency mold removal service!
Mold Remediation Englewood
After successful mold inspection and mold testing, we will have the knowledge of exactly what type of mold are we dealing with and its exact location in your Englewood home. Then we'll be able to perform mold remediation in Englewood.
Before we start removing the mold, we'll make sure that it doesn't spread to unaffected areas by containing it. 
Afterward, we'll start removing the mold along with any heavily affected objects like, for example, drywalls. This is the process known as "mold removal". People often think that mold removal and mold remediation are the same when in fact, mold removal is just a part of mold remediation. 
Once our Englewood mold remediation team got rid of mold, they will clean your place so that any small leftovers that have potentially been missed during the mold removal process are also removed. 
In case there are any musty odors present in your home, our mold experts will perform a proper odor removal.
It depends on the size of the mold problem. If you have got everyday mold, you can remove it yourself with soap, water, or bleach if it's a more stubborn type. However, if you have areas of multiple square feet covered with mold, you shouldn't try removing it all by yourself. Without the proper equipment, you may be seriously risking your health.
It depends. Insurers won't pay for mold removal, mold remediation, mold inspection, mold testing, and related costs if the mold problem could have been prevented. However, if the problem was caused by a "covered peril" like f.e. a flood or severe storm, the insurers will pay for mold remediation. Learn more.
It definitely can if the moisture source hasn't been properly detected and removed. Our mold removal experts will make sure that doesn't happen. 
Remember, mold spores are everywhere, all the time. However, they need moisture to grow into a problem.
By removing the moisture source, we will truly kill mold, leading to a successful mold remediation process. 
Most frequent questions and answers about mold and mold removal.
Mold grows in places with high humidity. Therefore, the reason for your mold problem may be a single event like a plumbing leak, water damage caused by a flood, or similar. 
Mold problems can also be caused by consistent high humidity and warm temperature in a home. Note that mold spores are everywhere and they'll grow into mold whenever the conditions mentioned above are met – conditions that are almost always present in Englewood and all of Florida. 
Exposure to mold can cause health issues. Depending on the levels of mold in your home, health problems it can cause range from less severe irritations of your nose or throat to more severe reactions in people allergic to mold or those who have asthma. Long-term exposure can also cause insomnia, anxiety, memory loss, and other major health issues. 
Got everything you need? Our experts are ready to help you if you're looking for any of the following:
Mold remediation near me
Mold removal near me
Mold removal company near me
Mold removal services near me
Mold remediation services near me
If that sounds like you, feel free to call us! Our experts will be more than happy to take your request in and provide you with the top-notch service!
Englewood is a census-designated place in Charlotte and Sarasota counties in the U.S. state of Florida. As of the 2010 census, it had a population of 14,863.
Englewood is in Sarasota County and is one of the best places to live in Florida. Living in Englewood offers residents a suburban rural mix feel and most residents own their homes. In Englewood there are a lot of restaurants and parks. Many retirees live in Englewood and residents tend to lean conservative.
Englewood, Florida is a lovely Gulf coastal city stretching throughout Sarasota and Charlotte Counties, easily accessible as a day trip from nearby Tampa or Fort Myers. The gorgeous city is known for its unspoiled, uncrowded beaches, which offer a less-trafficked alternative to more popular area tourist spots.
Englewood has an overall crime rate of 13 per 1,000 residents, making the crime rate here near the average for all cities and towns of all sizes in America. According to our analysis of FBI crime data, your chance of becoming a victim of crime in Englewood is 1 in 80.
Experiencing Mold Problems?
If you're experiencing a mold problem and are in a need of mold removal services by the best mold experts in Englewood, call us today and get a lightning-fast quote. Our response time for emergencies is under 60 minutes, faster than any other of the mold remediation companies serving Englewood!